Your marketing efforts make the biggest impact with your audience when you deliver the right message, at the right time.
With your marketing automation, you need to be specific, timely, and smart about what you say next to your leads and prospects. Whether it's the follow-ups you do in your sales process, or the email marketing you send out based on actions the visitors take on your website, it pays to be as relevant with your messaging as possible.
Your customers have various interests, needs and habits that present a huge opportunity for you to be more personalised and build better long term relationships with them.
But how do make sure you are saying the right thing at the right time when your customers' interests and needs vary?
How do you keep track of these varying interests, needs, behavioral nuances, and other key data points?
The answer? Tags.
What are marketing and CRM tags?
Ontraport and other advanced CRM and marketing automation solutions make use of "tags". Tags help you add layers of additional information to each contact record in your database so that you can use that extra layer of information later to create specific groups or lists.
Think of them as like digital post-it notes pinned to every contact that you attract with your inbound marketing, upload via list, or manually enter into your CRM system.
When you use them the right way, tags are indispensable when it comes to your list segmentation as they can help you run laser focused marketing campaigns to drive the very best results.
Here's a few examples of how you could use tags in your CRM for segmentation:
You could create a group of all your contacts who've been tagged with "downloaded ebook" while excluding existing "customers". This is great for focusing a sales message on your interested leads to move them towards becoming customers
You could group together "customers" from a specific geographic location to send them a special offer.
You could filter your contacts by those tagged with "lead" to send them an email about an upcoming online webinar.
The list goes on.
They key here is that segmentation leads to personalisation, and personalisation is the reason why over 80% of customers are likely to do business with a company, according to Epsilon Research.
Tagging & Segmentation: What's the Right Way?
The truth is, there's no definitive right or wrong way of tagging your contacts. It purely depends on your situation and the results that your business is trying to achieve.
What you need to spend some time thinking about is – what are the different groups of people that you want to be sending communications to?
Once you've identified these groups, you will be able to create a tagging system that allows you to segment your contacts and create your main communication lists.
For example, you may have three main lists that you communicate with, your blog subscribers, your active prospects and your customers.
Once you have identified these groups, you can easily see where and when they need to be tagged and what tags are appropriate to be added.
This will then allow you to create email marketing automations and communications that are hyper relevant to your specific audiences.
Pro Tip – Be very aware of the fields or custom fields that you have in your CRM or automation platform's contact record. If there is a field to collect the data, then there is no need to add a tag for the same data.
For example, if there is a Country field in your contact record, there is no need to add the tag "USA" as this should be captured in the Country field instead.
Naming Conventions & Tag Categories
It's important that you identify a standard naming convention for your tags as early as possible when adopting a new marketing automation or CRM system.
If you don't have a tag naming convention that you stick to, you'll soon realise that you're tags are spiralling out of control and you're looking at a list of hundreds of tags and you have no idea what they are for.
One thing that I recommend to my clients is to keep your naming convention simple and well-defined, right from the start.
Create categories for your tags and naming conventions for those categories. Here are three examples of tag categories that I always recommend my clients to define (as they apply to most businesses).
Category 1 : Customer Lifecycle Stage Tags
All businesses have a customer lifecycle that may differ, but most businesses have at least these three lifecycle stages – LEAD, PROSPECT, CUSTOMER.
For this first tag category, I recommend that you start by defining your lifecycle stages and creating tags for them.
To give an example, let take a service-based business like a web design company. They may use Customer Lifecycle Tags as follows: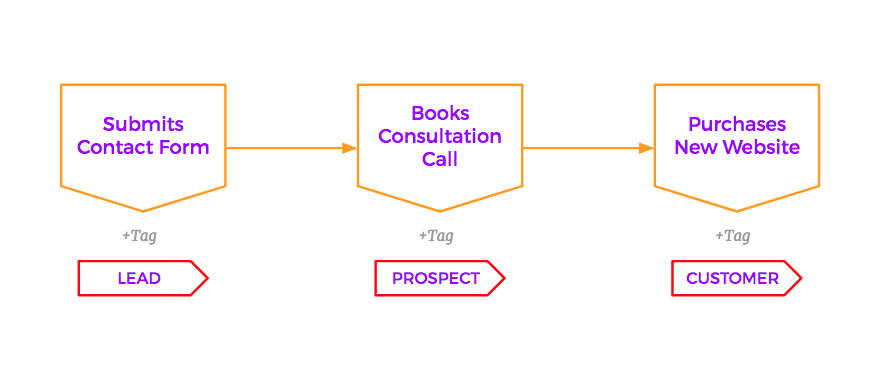 For a simplistic web design business sales process as shown above, this tag structure allows you to easily group and find all of your contacts depending on what stage they are at.
This is particularly useful when sending email broadcasts as you may not want to send the same communications to your customers as you would send to your leads and prospects.
Category 2: Critical Action Tags
The second category that I recommend my clients define is their "critical action" tags.
By assigning tags to critical actions that users take while they are on your website, you can gain a better understanding of your contacts activity and use these tags as trigger points to create additional automation.
For example, when a potential new client books a call with your sales team, that is a critical action.
In this case we would tag the lead with something like "ACTION: Call Booked".
You could then trigger a follow up email automation that confirms the date and time of their call and gives them further information.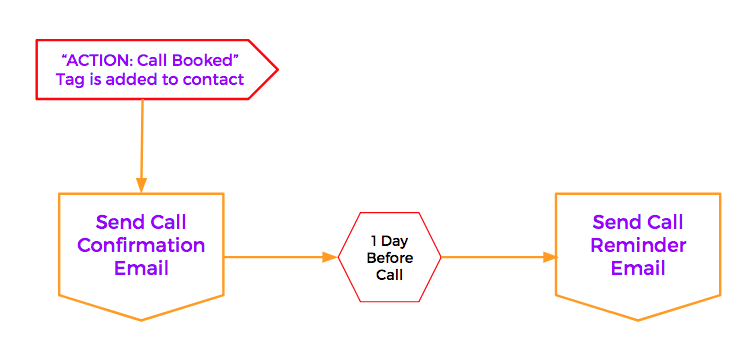 You can get as granular as you like with critical action tags. Here are a few more use case examples:
ACTION: Ebook Downloaded
ACTION: Questionnaire Completed
ACTION: Pricing Page Viewed
ACTION: Contact Form Filled
This tagging category is important for making your marketing automation work seamlessly, so it's important to spend some time thinking about the critical actions that your leads and customers take on their journey.
Category 3: Interest Tags
The final tagging category that I recommend thinking about is your contacts interests.
If you implement content marketing strategies as a part of your digital marketing mix, this gives you a great opportunity to capture and tag the interests of your audience.
For example, if you've just emailed your list to notify them of your new blog post "the hottest new modern kitchen styles for 2018", the contacts that click on the link in the email to read the article are obviously interested in modern design.
Whereas if your blog post was notifying users "how to save $1000 on your new kitchen" you can assume that those contacts are interested in saving money.
In this case you could tag the contacts that clicked the links with the relevant tag:
INTEREST – Modern Design
INTEREST – Save Money
These tags really come in use when wanting to personalise your email marketing and automation campaigns to get the best results.
Let's think about this in the context of promoting a new ebook resource that you have created called "How to get a beautiful kitchen for less than $4000".
If you were create a list segment with the two interest tags stated above, you would expect a much better conversion rate for this campaign than if the users interests were saving time and retro design.
Now obviously, we don't want to list hundreds of different interest tags for your leads and customers, so again, you need to think about the key interests and topics that are relevant to the offers that you make.
That covers the three main tag categories that I cover with my clients.
Tagging & Segmentation Conclusion
One of the reasons why Ontraport is such a powerful system is because of the way it lets you tag your incoming contacts, leads, prospects, and customers.
Using tags in Ontraport or any CRM and automation system, is a great way to ensure that you have all the information you need to filter, sort, segment, and use your contact list to your advantage. This allows you to manage customers smarter, to do marketing better, and ultimately ensure positive cash flow, revenue, and profits for your business.
Are using Tags in Ontraport (or your own CRM) the right way?