Santa Barbara is a beautiful place with filled with friendly people and lots of sun. It's also the home of our favourite software platform, Ontraport.
Being an Ontraport Consultant that is based in the UK, heading to SB for Ontraport's annual conference is quite the trip, but one that I intend on making many more times in the future. For me personally the event was all about making a stronger connection with the community and that goal was definitely achieved.
I would say the actual content of Ontrapalooza (OPLZA) is great for beginner to intermediate Ontraport users but advanced users may not learn much new.
The most popular talk by far was the Ontraport Roadmap session that founder Landon Ray presented on Thursday afternoon. In this post, I'll do my best to give a quick overview of all the upcoming features that were mentioned.
Disclaimer alert! The exact features, functionality and timelines given in this post are not 100% confirmed and all of the information provided in this post is my personal interpretation. Please take that into consideration and do not make any business decisions based on this info 🙂
The General Direction of Ontraport
First, it's useful to give a bit of context around the general direction of Ontraport. With Landon stating that over 80% of Ontraport customers are service based businesses, it's not surprising that they are getting serious about building features with this in mind.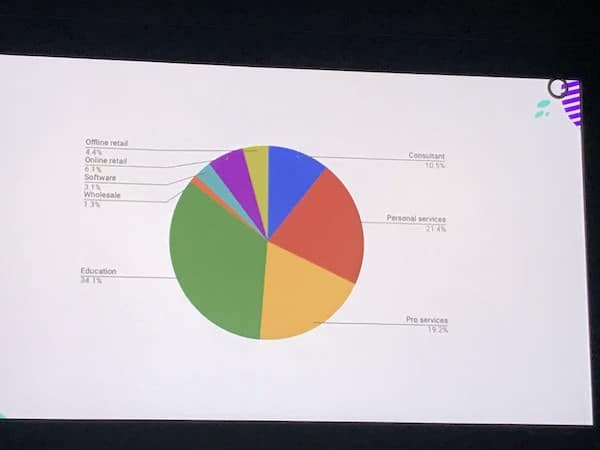 There is also a big push to build things into the system that can be implemented fast (ideally with a single click) so that new Ontraport users can get to seeing the value of the system as fast as possible.
Ontraport Pages & Membership Sites
With a big chunk of the businesses that Ontraport serves being in the education industry, integrating membership sites into the new Ontraport Pages is a no brainer for them. This looks to be a really cool feature that will allow users to build a fully functional membership platform in just a few clicks by installing a dedicated membership site template from Ontraport – bypassing WordPress altogether. Nice!
Now, I'm no membership site pro, but I don't expect this feature to be a replacement for something like AccessAlly or Teachable as these platforms have a lot of advanced features like gamification, comments etc. But hey, I may be wrong.
Personally, I feel that this feature sounds perfect for building out some basic sites that need to lock down a small amount of content. But if you have big ambitions for your membership platform, you may need something more robust.
Get your FREE Growth Audit today!
Uncover the hidden areas of opportunity in your marketing and sales funnels.
See how you stack up against industry best practices.
See where you can improve your conversion rates and sell more.
Ontraport Events
It wasn't crystal clear exactly what functionality Ontraport Events will provide. There will be an integration with Google Calendar, which is great, but will this just be a backend event creation tool that can send invites to contacts – or is this going to be a replacement for Calendly, Schedule Onces, Acuity etc?
Ideally, it will be a Calendly replacement that gives us a scheduling widget for front end use on our websites. This functionality for a website visitor to be able to select their own appointment date and time from available slots would be an incredible addition to the suit of tools that Ontraport provides. Fingers crossed for this.
Ontraport Mobile App
Oh boy, this is a big one!
The mobile app has been one of the most commonly requested features that my clients have voiced an opinion about over the past couple of years. This has been a major pain point for them.
I get it, for a serviced based business with a sales team, it's kind of expected that they would be able to be on the road and easily manage their 1 on 1 relationships with customers via mobile (no matter how shitty the user experience may be).
Well, as per Landon, we can expect the mobile app to materialise at some point in 2020. It's not 100% clear what functionality the app will have but it will at least provide basic contact, task and event (mentioned above) management.
Contact Quick View
In preparation for the mobile app, there will also be an update to the contact record by introducing whats called "Quick View". This wont fully replace the contact record but rather it will allow you to quickly see your most relevant fields for a contact record and give you the functionality to send an email, add a task or event with minimal effort.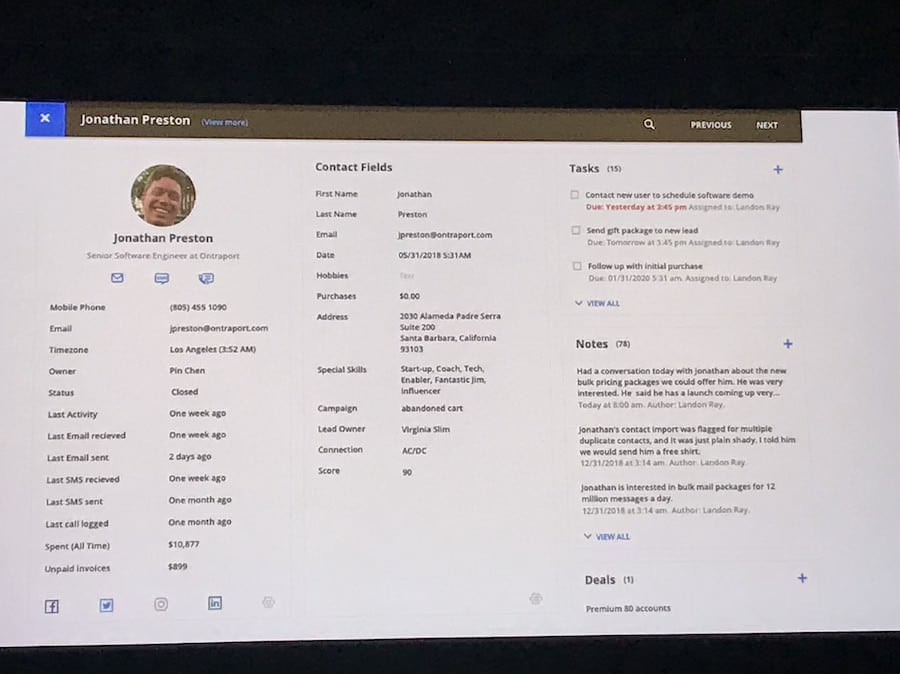 Ontraport Payments
This is another feature that is expected to be a game changer for those users who are running a service business. Ontraport's current payments functionality is restricted to say the least. It's great for serving single products to an audience online – subscriptions and payment plans are great, but what about those that don't do business this way (the majority of SMEs).
The new payments capabilities will include:
– Separate payments and invoices
– Accounts credits and partial refunds
– Tax inclusive pricing
– Unpaid invoices
– Proposals
For me, proposals is a big one. I'm really keen to see how that turns out. There wasn't much mention of the planned functionality but a proposal template builder would be great right?
Simple Dashboard Upgrade
For the most part, the dashboard in Ontraport isn't great (sorry guys). I'm really excited to see the new simple dashboard update which will allow us to see simple trend lines for metrics over time.
Nothing more to say about that apart from I hope that it comes sooner rather than later!
Scalability & Performance Improvements
As someone who uses Ontraport on a daily basis I'm really excited about the planned updates to the backend infrastructure. I won't pretend to understand the details of how changing database providers and moving to cloud based servers works -but what I do know is that, theoretically, this will result in a faster more enjoyable user experience with less load times.
The tests that Ontraport have done so far have seen up to a 10X performance increase. This is pretty incredible but don't get too excited just yet. This is a huge project that we may not see the benefits of until 2020/2021. Even so, it's good to know that its coming.
Final Thoughts
OPLZA2019 really was great. The stunning Ontraport campus is an amazing place to run the event, Cat and the team did a great job with the planning and organisation of the schedule. The food was great. All in all, it went off without a hitch (minus a couple of microphone/slide issues ????).
After spending the last 7 days hanging out with the Ontraport team and community, I'm feeling pretty blessed to be a part of it all. Due to the event size (roughly 150 people), it was very intimate which meant everyone was able to easily meet interesting people, make new friends and valuable connections.
From an upcoming features perspective, it seems that the team's focus on "the service provider" has lead them to working on an awesome roadmap that will benefit a huge amount of us in the years to come. I'm excited for it.
What about you? What are your favourite upcoming features and how will you be making use of them? Do you think I'm way off on any of the speculation? Drop me an email – [email protected] and let me know!
Special shout out to Brendan Dubbels, Rochelle Yoshida and Neil Kristianson for making this years trip to Santa Barbara unforgettable. Cheers guys!