Marketing automation tools have the power to transform your campaigns. They're a convenient solution for streamlining your team's processes, they liberate employees from unnecessary manual tasks, and engage your target audience to greater effect.
What's more, marketing automation tools deliver real commercialresults.
Research shows marketing automation has actually helped businesses achieve a 14.5 percent rise in sales productivity, along with a 12.2 percent reduction in their marketing overheads.
Perhaps most impressive, 8 in 10 users secured greater lead generation overall.
But with so many marketing automation platforms on the market, how are you supposed to know which are right for your business, your goals, and your audience?
Below, we compare the best marketing automation software solutions for 2020, covering price, pros and cons, and more.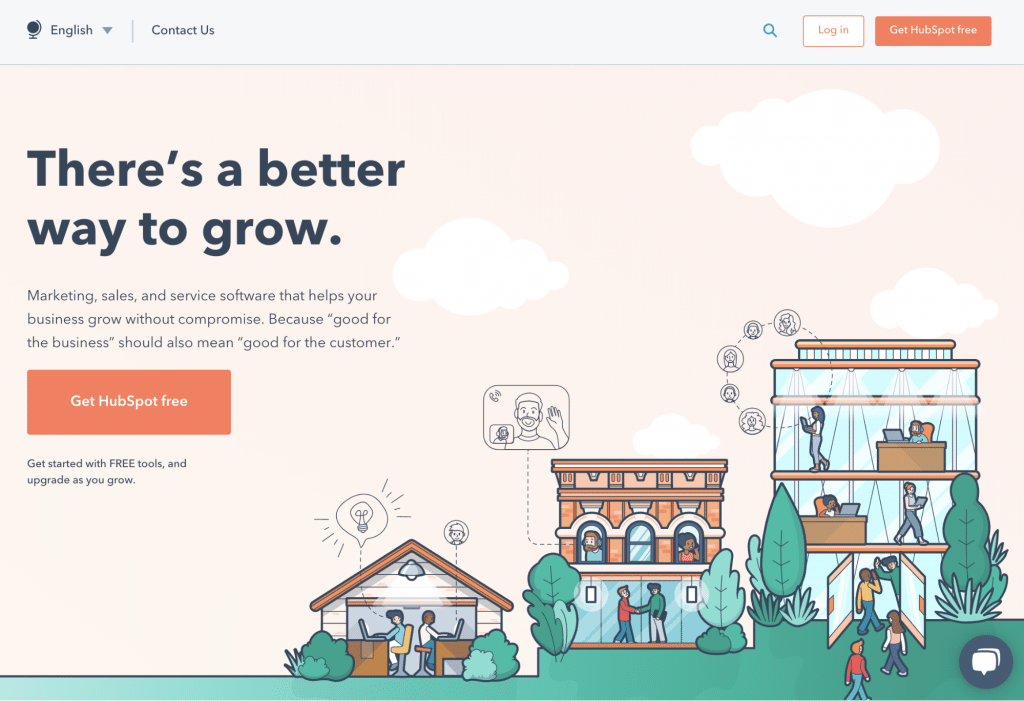 What it is:
HubSpot is one of the biggest marketing automation tools on the market today. It was launched in 2006 and has built a hugeaudience since, offering a full stack of software solutions to unify the various aspects of your business. HubSpot's blog is a strong resource for marketing professionals too, sharing expert insights across a broad range of areas.
The HubSpot Marketing Hub is compatible with plenty of top applications, including Gmail, Slack, and more. There's a 'free forever' option to help you get started, and a menu of paid-for options too.
Price: 
You can take advantage of the free HubSpot CRM, but you'll need to pay for one of three packages to get more out of the software. The Starter deal begins at £42, Professional from £655, and Enterprise from £2,624 per month.
Pros:
A well-designed, all-in-one option for businesses in different industries
Free CRM available
Integrates with many of the top apps and tools.
Cons: 
Prices for Professional and Enterprise packages could be a barrier for some
Can be difficult to use and configure at first
Not much flexibility for customisation.
Get your FREE Growth Audit today!
Uncover the hidden areas of opportunity in your marketing and sales funnels.
See how you stack up against industry best practices.
See where you can improve your conversion rates and sell more.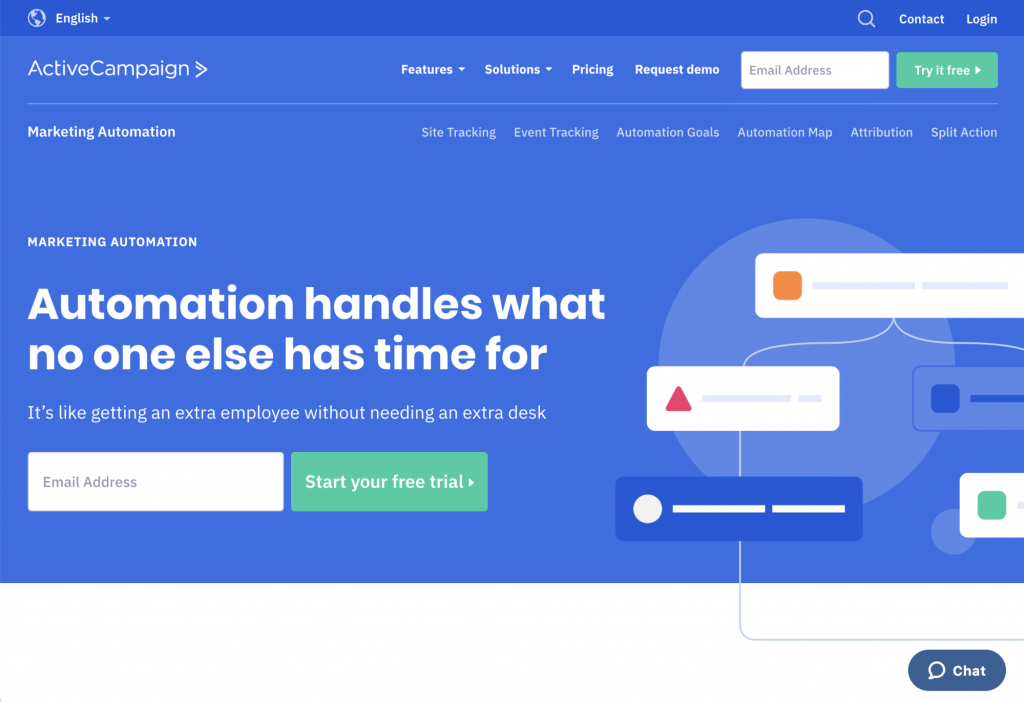 What it is:
This software platform automates marketing and lead generation processes, catering to small and medium-sized companies.
You can integrate ActiveCampaign with more than 150 tools, courtesy of Zapier (though you will need to pay for a Zapier membership to get the full benefit of it). This facilitates site tracking, social media marketing, event tracking, and more. As a result, you're able to reach your audience across several channels and assess their behaviour in detail.
You can also use ActiveCampaign to create a more personalised marketing strategy, and its flowchart tool allows for quick, simple automation set-up. Finding and retaining customers in the early stages of running a small or medium-sized business can be difficult, but ActiveCampaign is designed to help make it easier.
Price:
Pricing varies considerably for ActiveCampaign. But based on 500 contacts, the Lite package is £6.90 per month and the Plus version is £37.55 per month.
Pros:
User-friendly UI
Pricing is very competitive, especially if you're beginning with a modest contact list
Integrates with more than 150 tools via Zapier.
Cons: 
The email campaign builder feels a tad dated and clumsy.
Not much room for customisation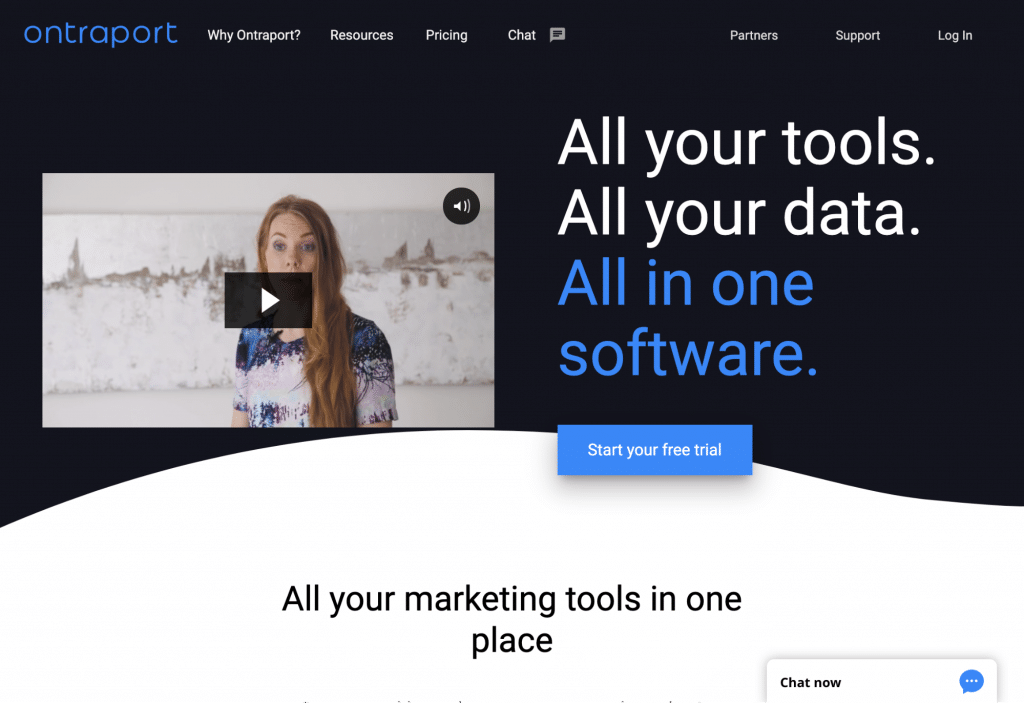 What it is: 
Ontraport is an all-in-one marketing automation tool providing a solid portfolio of features, including a well-designed CRM, processing of payments, email design, SMS messaging, management of affiliates, and marketing automation.
Being able to handle transactions is a great addition for small to medium-sized businesses taking payments online. You can use Ontraport to create landing pages to boost conversions, build lead-generating forms, launch membership sites, and access in-depth data too.
Price:
Ontraport offers four packages for subscribers. You can claim the Basic for £60, Plus for £112, Pro for £227, and Enterprise for £380 per month. A free trial is available for each of these packages.
Pros:
Affordable Basic package helps small businesses get set up at a fair price
Extremely customisable for your business needs
As a unified system, Ontraport brings a wealth of key features together for comprehensive marketing automation
Build landing pages and capture leads easily.
Cons: 
Design isn't quite as eye-catching as it could be
The sheer range of features means the platform can take time to acclimate to.
See our fully comprehensive overview of Ontraport and all it's features.
What it is:
With Autopilot, you get a visual marketing automation platform offering multi-channel solutions. You can benefit from a number of quality automation features, including analytics to monitor your marketing campaigns, tools to map customer journeys, segment your audience, and more.
Autopilot can be integrated with various other applications that businesses of all sizes rely on, such as Google Ads, Facebook, and more.
Price:
Autopilot is available in three packages. Silver costs around £37 per month, Gold £114 per month, and Platinum £190. You can start with 2,000 contacts, and if you have more than 10,000, Autopilot will provide a bespoke quote.
Pros:
Good range of features to understand your audience
Fairly easy to tailor marketing to your different audience segments.
Cons: 
Some integrations can be clunky
Performance is slow at times, which can be extremely frustrating and disruptive to workflow.
What it is:
Founded in 2006, Marketo has been around much longer than many other marketing automation solutions. This has given the team ample time to build a quality package, though its interface may appear a little bit dated.
Marketo offers a sizeable suite for managing leads, segmenting your audience, tracking leads, studying data with analytics, creating landing pages, sales enablement, customer journey management, and more. Sadly, there's no CRM available.
Price:
Marketo appears to be fairly secretive with its pricing, but packages appear to start from £600 per month.
Pros:
Good range of features for small to medium-sized businesses
Plenty of deals to choose from based on your marketing goals/needs.
Cons: 
Pricing is extremely high, especially for young businesses on tight budgets
Lack of CRM is a noticeable omission.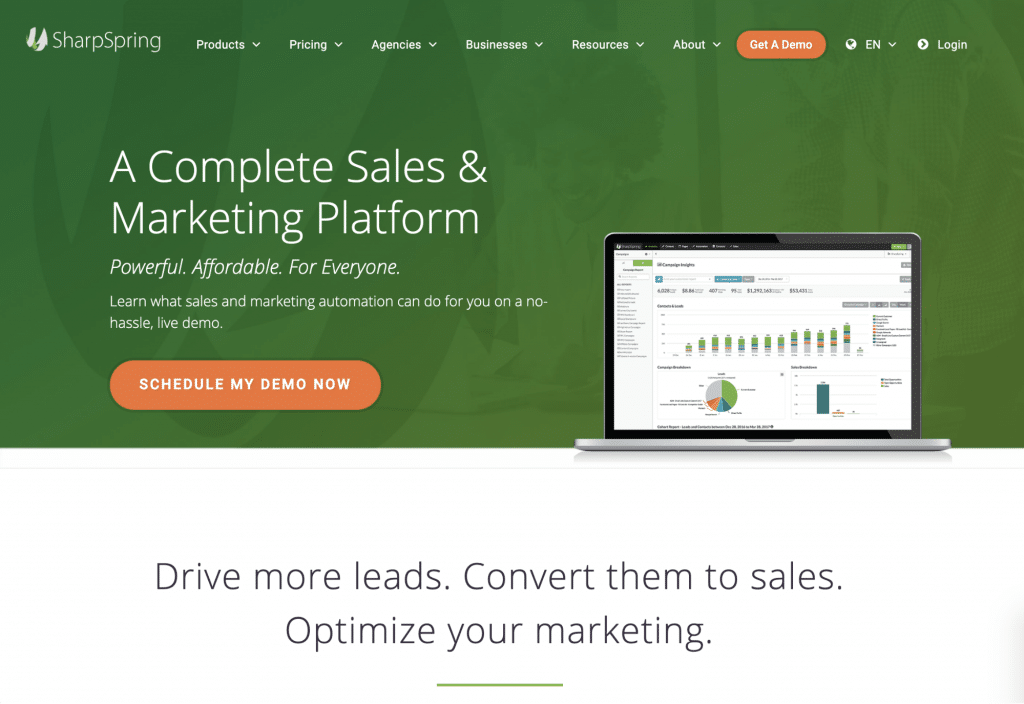 What it is:
As another all-in-one marketing automation product, Sharpspring incorporates a number of features such as campaign tracking, blog creation, CRM, sales automation, social media management, email marketing, landing pages, form builder, and website tracking too.
The inclusion of behavioural-based email automation is a particularly nice touch. Sending personalised messages allows you to cultivate human interactions with prospects and customers. The landing-page builder is easy to use, with no need for formal web-design experience.
Price:
Sharpspring's pricing starts from around £420 for 1,500 contacts, £650 for 10,000 contacts, and £958 for 20,000 contact per month. Agencies can also work out unique packages based on requirements.
Pros:
Lack of long-term contracts suits emerging businesses well, so you can switch software without being tied to an annual deal
A good choice for agencies, as it's totally rebrandable and offers special deals
Behavioural-based email automation is a valuable addition.
Cons: 
UI could use some work
Users have complained about performance issues, which can cost precious time down the line.
How to choose the right marketing automation tool for your business
The sheer amount of choice for marketing automation may seem overwhelming. But studying the pros and cons explored above should help make the selection process a little easier.
And, rest assured, once you implement a quality automation software into your business's marketing, you'll free up valuable time, build your audience, and create personalised marketing campaigns. All you need to do is consider which features are most beneficial to your company, your team, and customers.
Ultimately, pricing may be the biggest factor driving your decision, but don't make that your core focus. Weigh up the different features and functions available, to make sure you get maximum value for money.