To put it bluntly, if you're ignoring email as a part of your marketing strategy, then you're missing out on potential business opportunities.
According to the Direct Marketing Association, email is still one of the world's leading marketing channels with an average return on investment of 24%. While there are many channels that allow you to keep in touch with your audience, email is still one of the most powerful. It's safe to say, email is here to stay and you ought to include this in your marketing strategy.
That being said, with the average worker receiving over 100 emails a day, making an impact in the inbox isn't an easy task. Learning email marketing best practices will help you to run more successful campaigns, stand out from the crowd and get better results.
In this post I'll be covering 13 email best practices (my 13 email commandments, if you will). These best practices can be split into three key categories:
Hitting the inbox (not the junk folder)
Engaging and converting the recipient
Measuring metrics to improve future performance
Let's dive in…
Hitting the inbox (not the junk folder)
Roughly 2,751,585 emails are sent every second and over 200 billion every day. Out of which, almost 60% of emails go to the spam folder. Implement the following 5 best practices to make sure that you have the very best opportunity to reach the inbox.
When it comes to images, less is more.
Adding an image or two can help bring your words to life, but don't go overboard. According to constant contact, adding three or fewer images and 20 lines of text results in the highest click-through rate, low bounce rate and smaller chance of falling into the spam folder.
(Image via ConstantContact)
Always hyperlink, never add raw links
Whether you're sending an email newsletter or any other type of email, for the most part, you'll be using links to drive traffic back to your website.
When using links, always be sure to use hyperlinks and never add raw links to the copy. Raw links in your email messages can trigger spam filters and hinder you efforts to reach the inbox. A raw link would look like this – https://example.com/this-is-a-raw-link
Limit the amount of links you use
Getting your emails opened is one thing, but what we really want is clicks right? Well, according to studies, the more options you give someone, the harder it is for them to choose.
This same theory also applies to adding links in your emails. If you have a specific goal for your email campaigns (like driving traffic to a specific landing page with an offer on it), you'll see best results by keeping the amount of links in your email to a minimum.
Choose your words carefully
Inbox spam filters have seen billions of promotional emails and have a good recognition of the common language used in spam messages. When writing your email subjects and copy, choose your words carefully and avoid words and phrases that will trigger those filters.
Add DKIM records to improve email delivery
This is a bit technical, but you should really learn about DKIM records and how to implement them in your DNS settings if you want to make sure that you are adhering to best practice.
Your chosen email service provider or marketing automation software will usually provide you instructions on how to set this up. If you're really not tech savvy at all, you may want to ask your web developer to assist you with setting this up.
Engaging and converting the recipient
These next 5 best practices are all about creating the very best emails that your can to engage and convert your audience. Every business owner wants more sales, but if you're not providing value upfront and speaking to your audience in the right way, you're basically just advertising to them their inbox. No one likes that.
Humanise your communication
Make your writing more personalised and empathetic. By addressing the recipient directly and speaking to what they need, your readers will feel a deeper emotional connection with you.
Send your emails from a human and not from the business name wherever possible. Even better, include a picture of the sender in the email signature.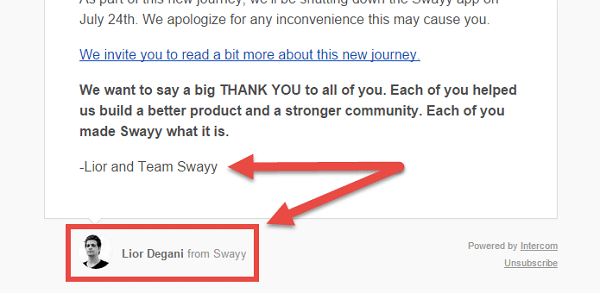 (Image via GetResponse)
At the end of the day, people buy from people. So, avoid corporate robo-voice and find your own tone and personality. By applying this principle, you're more likely to attract the people you want to work with and repel the ones that you don't.
Provide your unique value, not fluffy content
Your audience is inundated with emails every single day. We all are! Providing value and a reason to open and read what you have to say has to be at the top of your priority list. In today's fickle world, if we're seen to be irrelevant, we may as well be talking to a brick wall.
Make your email copy short, sharp and to the point. You're here to serve your audience, whether that's by educating, entertaining or informing. Provide your unique value and don't make it fluffy.
Know your audience and speak their language
Marketing 101 right? Well, it's a lot harder than it seems to nail this one. If you're an SME that excels at delivering a great product or service, chances are, your product or service evolves over time. This means that you value proposition evolves, which means your target customer does too.
Most email marketing software now gives you the ability to tag and segment your audience so that you can customise your communications to certain groups. Clearly defining your target customer and communicating to them in a way that feels personal will be one of the best things that you'll ever do when it comes to improving your email marketing results.
Use curiosity and intrigue to generate opens and clicks
You want your users to open and click your emails. Using curiosity is one of the best ways to achieve this as pulls at the FOMO strings. We all have that fear of missing something that could give us the edge. Crafting tantalising subject lines that your readers simply have to click on is an art form and a skill that is highly coveted.
Have a clear call to action
In most cases, you want people that receive your messages to do more than just read your emails. Getting readers to take action is the ultimate goal and there is no better way to do that than to include a clear and concise call to action.
You can add CTA's in different formats. Buttons, images, hyperlinks, you choose what suits your style the best. Try to avoid horrible language like "Submit" on buttons and always remember to split test where possible (especially if you are driving traffic to a product or sales page).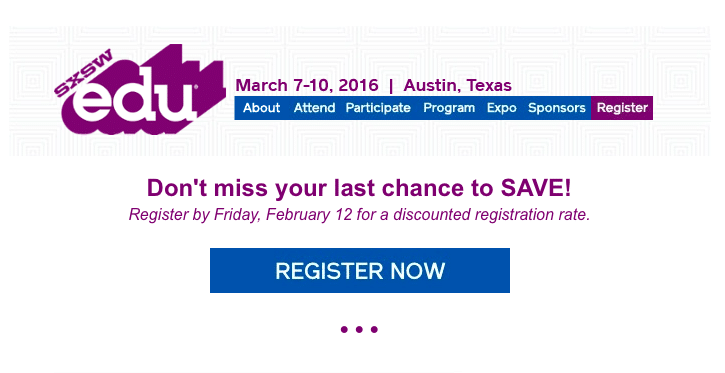 (Image via CampaignMonitor)
Measuring metrics to improve future performance
Keeping track of your email marketing performance over time is critical if you want to see improved results. If you are just starting out, you can easily find industry benchmarks to give you a baseline to aim at.
The following commandments will help you take actionable steps towards creating better email marketing campaigns over time as you collect more and more data.
Use your open rates to gauge the effectiveness of your email subjects
The very first thing that people see of your email is the subject line. As we've already stated above, with most people receiving hundreds of emails per day, it's safe to say that your email will live and die by its subject.
If you're seeing poor open rates, this a sign that your subject lines are not powerful enough to get your audience to care. Use this metric as a guide to tell you when you need to shake up your subject line style and try something new.
Use your click through rates to gauge the effectiveness of your email content
Just as open rate relates to subject line effectiveness, click through rate relates to the effectiveness of your email content.
Click through rates are usually a lot lower that open rates as getting someone to actually take action on what you're asking of them is becoming more and more difficult. If you're seeing poor click through rates, again, you need to try something new. Stop using so many images, change the tone of your copy, segment your list better to personalise your message. There are many things to test and this metric will be your measurement of success.
Use your unsubscribe rates to gauge the overall resonance of your message
You'll always get unsubscribers when you send out mass email communications, but if your unsubscribe rate is unusually high, you've probably got a bigger problem. Make sure you keep track of this metric and if you see it rise to be out of the ordinary, try to figure out why. A few common reasons can be:
You've drastically changed the tone or style of your emails
You're emailing too often
You're email content has become irrelevant
Try to identify the reason and then take actions to get your unsub rate back down to a healthy level.
The Secret Ingredient?
Encourage Responses
It's well documented that the more engagement your emails get, the better your standing will be with your email service provider of choice.
At the end of the day, ESPs are trying to protect their reputation so that they can serve their customers better. If you're sending too many spam emails, getting complaints and a high unsubscribe rate, you're effectively damaging the reputation of your email service provider (and likely to be banned).
Best practice is to take the opposite approach, create engaging, personalised emails that are sent to the right people at the right time. For every open and click on an email that you receive, you build your reputation as you look to be providing quality content that is driving engagement. And what better way to show the servers that you are providing value than by getting replies to your emails!?
If someone replies positively to an email broadcast that you've sent, this gives you major props with your ESP which, in turn, will help with your delivery rates, open rates and click rates. It's the email marketing circle of life.
If you start to implement just a few of the email marketing practices mentioned above, I guarantee you'll see improvements in performance very soon after.
So, what do you think of the 13 email marketing commandments above? Did I miss anything? Let me know in the comments below!